About This Fundraiser
We always endeavor to bring hope to the ultrapoor and this giving season, we are channeling our efforts through our Medical Mercy Program, one of the many ways ICM serves those in need. This Christmas, our goal is to bring the Gift of Opportunities through clubfoot surgeries to children who are waiting for this life-changing operation!
Linalyn is sixteen years old. With her feet bent inwards, walking around was a daunting task. Living in a rural area often affected by flood and mud made everyday life even more difficult for her. In June 2018, Linalyn was able to receive the corrective surgery through ICM's Medical Mercy Program. She is a top student in her class and has decided to pursue medicine so that she can "help others like me!"
Since June 2017, ICM's Medical Mercy Program was able to treat 15 clubfoot cases but we still have 12 patients waiting for the appropriate funds. Each case ranges in cost from US$1,000 to US$2,000. The total cost for all of these cases is about US$20,000, which means we need 900 submissions of US$20 or more.
In addition, friends who give US$20 to help reach this goal will be entered into a draw*! The winner, along with two friends, will be given the chance to take a ride in the Google driverless car on Google's campus in Silicon Valley. Every additional US$20 given will make you eligible to have your name entered another time. Furthermore, if you share the picture of Linalyn on your facebook or instagram with the hashtag #TheGiftofOpportunities, you will be entered into the draw an additional time.
Donate now to give the Gift of Opportunities to children living in ultrapoverty. We are hoping to call these children on Christmas morning to tell them that their lives will be changed forever. Will you join the challenge with us this giving season?
However you choose to be generous this season, we thank you for partnering with ICM to transform the futures of the ultrapoor!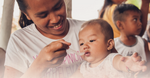 ICM's Medical Mercy Program allows family members of ICM program participants in need of critical medical care to receive necessary treatments and surgeries that are financially out of their reach. Some common medical conditions are clubfoot, cleft palate, goiters and bowel issues. Currently, we have a total of 283 medial cases that are awaiting funding and the total cost of all the surgeries amount to nearly USD$100,000.
Recently, we arranged successful surgeries for a little boy who was born with both clubfoot and fused fingers. This made walking and holding objects difficult. Now, he can not only run around but he can even hold a pencil and write his name! These surgeries have completely changed the trajectory of his life.
Your donations go towards relieving our recipients' pain and giving them a brighter future!